A New European Vision For Touring
20 July 2023
Image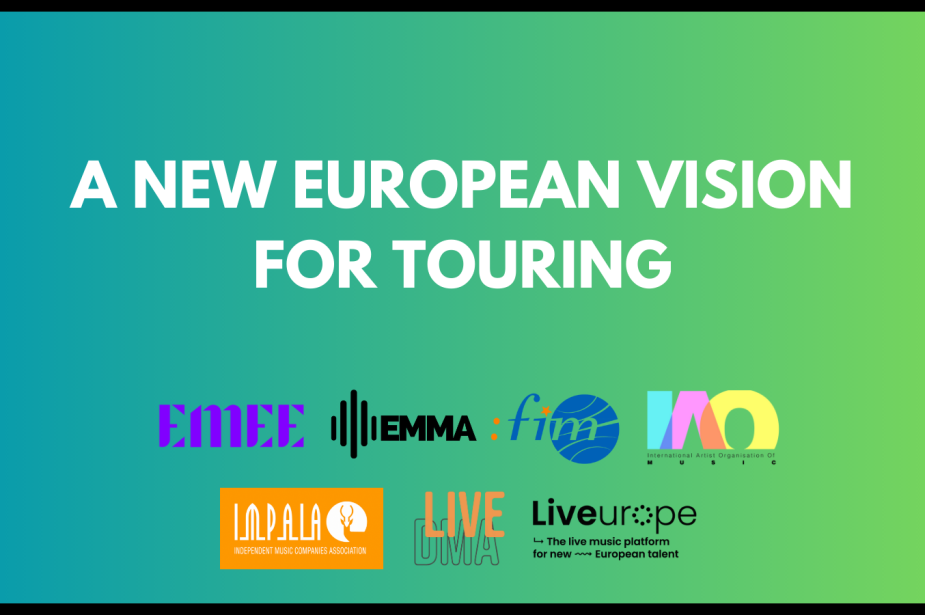 Download the letter in full with annexes in pdf format.
As Spain took over the Presidency of the Council a few weeks ago, with enabling cross-border mobility for artists addressed as part of its programme, pan-European organisations IAO, IMPALA, FIM, EMEE, Live DMA, Liveurope and EMMA representing altogether musicians and other artists, independent labels, managers, music venues, clubs, festivals as well as export offices join forces to call on EU Member States to launch a dialogue with the sector around the topic of mobility as a vital component of competitiveness within the sector. This initiative addresses a gap currently not considered by the EU and follows the recommendations by recent reports to further develop discussions between the European institutions as well as music and cultural organisations (see for reference the "One Voice for European Music" initiative launched by the National Centre for Music in France). 
There is a need for a new vision for European touring that enhances security, co-operation and cross-border cultural exchange across the EEA, while also enhancing European culture and live experience. Facilitating live shows is crucial for artists and labels who were entirely deprived of their performance revenues for more than two years with the COVID-19 pandemic. As the consequences of the pandemic continues to impact artists and music operators across the entire live music value chain, they now must also deal with a surge in fuel and energy prices, while costs of living increase across the world in parallel.
This is also crucial for Europe's cultural competitiveness, at a time where non-European repertoire overperforms in the region (see Music Moves Europe study "A European music export strategy" – e.g. US repertoire represents on its own 42% of Europe's average listening share for streaming). And let's not forget that promoting cross border tours within the EEA will also have a positive impact on sustainability in the sector. Improved mobility will provide greater artist engagement through new routes and slow touring (i.e. less travel intensive tours) in Europe's regions, as new opportunities will serve less pressure for tours to cover only major cities to maximise profits at the expense of high mileage. This will be vital for the music sector's role in mitigating the current energy crisis and assisting the EU's green transition.
To achieve a lasting change to benefit artists and cultural workers, mobility questions should be mapped and reassessed in light of their real experiences and impact to economic and cultural competitiveness. Do we need a simplified process, particularly given the lasting impact of Covid? What steps do we need to take to reduce red tape and boost European culture? Do we need a European cultural area and a new status for artists and cultural workers in terms of visas? The question of mobility in greater Europe is vital but understandably complex in the current climate.
A dialogue on these questions would be the first step to address the sector's main challenges to touring, as identified by our organisations (click on each issue to learn more about it):
Addressing visa issues for artists

Improve the situation as regards custom licences ("carnets")

Fix the situation regarding excessive tax burdens 

Make cabotage rules futureproof

Alleviate touring obstacles by upscaling funding opportunities at EU level

Address obstacles for carrying musical instruments on planes (revised regulation 2027/97 still on hold)
Our call asks for the continuation of initiatives that have already proved essential to the sector, namely:
The opportunity for the European Commission to launch studies within the Culture Council work programme which helped further knowledge and understanding of the music sector, its needs and challenges. We also recommend that the topic of mobility is added to the next work programme.

The strengthening and the development of Mobility Info Points at National levels that help artists travel to work by providing useful administrative information while also being connected to national ministries and administrations, when relevant

(also recommended in 

latest OMC report

on the working conditions of artists and culture professionals).
Europe's support of its cultural and creative sector during the pandemic was inspiring, let's build on that to fix the long-standing issues faced by the music sector.
Signatories
Read more about the signatories and their respective works on touring/mobility:
EMEE is a non-profit association made up of 32 national and regional Music Export offices from 27 countries, together and individually we support European musicians, music companies and music professionals in their export strategies. EMEE's mission is to strengthen the European Music Sector by encouraging musical diversity, visibility, and supporting mobility in and outside Europe. We facilitate this through the exchange of information and expertise from our members and with project initiatives between our members and/or other music industry organisations. 
EMMA (European Music Managers Alliance) brings together Music Managers Forums in Belgium, Denmark, Finland, France, Germany, Ireland, the Netherlands, Norway, Poland, Spain, Sweden and the UK – with links to allied organisations in Australia, Canada and New Zealand. EMMA represents approx.2,000 music managers across Europe, and another 600 worldwide, representing the commercial and professional interests of tens of thousands of artists, songwriters, producers and DJs.
FIM (International Federation of Musicians) is the only body representing professional musicians and their trade unions globally, with members in about 65 countries covering all regions of the world. Founded in 1948, FIM is recognised as an NGO by diverse international authorities such as the ILO, WIPO, UNESCO, the European Commission, the European Parliament or the Council of Europe.
IMPALA is the European association of independent music companies, representing nearly 6,000 music SMEs. Its mission is to grow the independent music sector sustainably, return more value to artists, promote diversity and entrepreneurship, improve political access, inspire change and increase access to finance.
IAO (International Artist Organisation) is the umbrella association for national organisations advocating for the rights and interests of the Featured Artists in the music industry. Our main interests are transparency, the protection of intellectual property and a fair reflection of the value an artist's work generates.
Live DMA is a European network for live music associations. The members are regional and national live music associations that represent over 3000 music venues, clubs and festivals located all over Europe. Live DMA's missions are to promote live music as arts and culture, level up the conditions for venues, club and festivals, empower live music professionals and participate in the design of music policies.
Liveurope is the first pan-European initiative supporting concert venues in their work to promote emerging European music. The platform's key mission is to give incentives to concert venues to promote the circulation of emerging European artists through a bonus mechanism and a European quality label. Launched in 2014 with the support of Creative Europe, Liveurope gathers 23 music venues in 23 European countries and has supported +3500 concerts with new artists of 40 European nationalities.
Pearle* - Live Performance Europe, as well as On the Move have been consulted and take note of the call of the co-signatories.