What's next? VEGA Selected one-day conference and showcase
27 Jan 2021
Image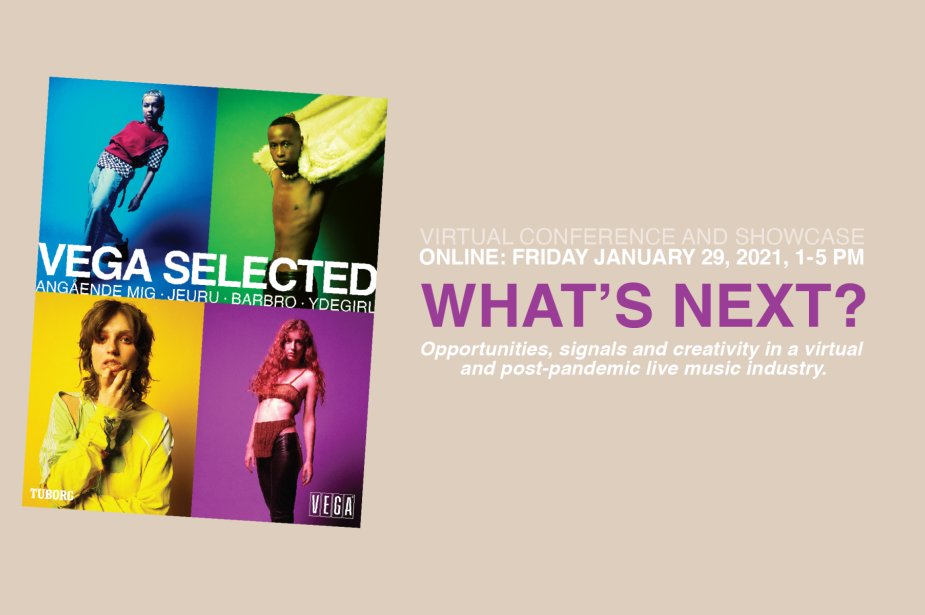 Opportunities, signals and creativity in a virtual and post-pandemic live music industry
Friday, 29 January 2021, 13:00 – 17:00 CET
While we are anxiously waiting for the resumption of live shows, VEGA is organising a one-day conference on Friday, 29 January, bringing together music professionals and artists to get inspiration for what lies ahead and discover fresh new talent.
Organised in partnership with Liveurope, the conference programme will look at the innovative ways different live music organisations have found to keep on going through the pandemic and look at the opportunities that the post-Covid-19 world will provide. Among other activities, the conference will include a working session on artists management in times of crisis, which will put a particular focus on emerging talent.
The working sessions will be hosted by futurologist and tech wizard Louise Opprud and will count with the participation of key music professionals and organisations.
After an afternoon full of inspiring discussions, participants will tune in to this year's (online) edition of the internationally acclaimed VEGA Selected showcase for exclusive gigs by emerging Danish artists who are on the verge of 'making it'. The line-up features 90s-inspired act Angående Mig, alt-folk singer Barbro, triphop-electronic soul ​sensation Jeuru & R&B singer YDEGIRL.
Download the programme & register before Thursday, 28 January, 11:00 CET at: www.vega.dk/Conference