Debaser presents: Nordic Lights, a showcase of Nordic talent in Stockholm
-
Image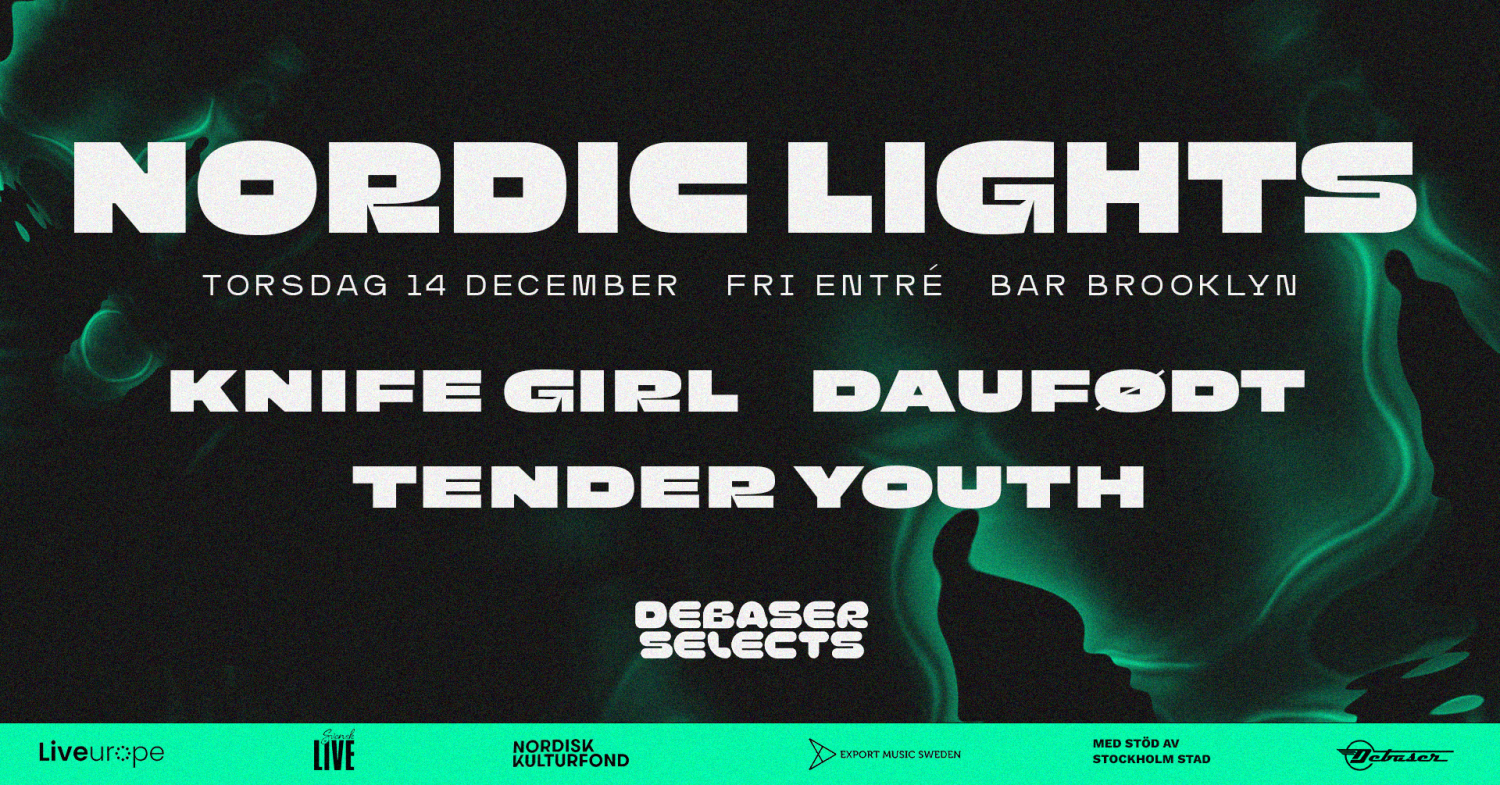 On 14 and 15 December, we will be putting the Nordic music scene in the spotlight during Nordic Lights, an Above 55° Showcase hosted by Debaser in Stockholm.
The day programme is designed to strengthen connections between Liveurope and the Swedish and Nordic music scene through networking moments and exchanges. It will also have a special focus on the topic of sustainability with a dedicated workshop organised by the Stockholm Resilience Centre. 
In the evenings, we will get immersed in concerts featuring the next generation of Nordic artists with great export potential – handpicked by Debaser in close partnership with Blå (Olso) and VEGA (Copenhagen).
This event coincides with Svensk Live's Framtidsforum (Future Forum) conference, which will host a Liveurope panel where we will unveil our results for 2023.
Programme
Thursday, 14 December
13:00 – 16:00 activities for Liveurope venues' representatives
For Liveurope members only.
16:30 – 17:30 Speedmeetings Liveurope venues x Nordic music professionals hosted by Export Music Sweden @ Capricci (by invitation only)
A unique opportunity for local artists and their entourage to meet with the programming teams behind the Liveurope venues.
19:30 – 22:00 Nordic Lights, an Above 55° showcase @ Debaser
Our Nordic venues Debaser (Stockholm), Blå (Olso) and VEGA (Copenhagen) joined forces to select three promising artists from the region with great export potential. More info.
Line up: 
Knife Girl (FI)
Knife Girl is a project of the 23-year-old songwriter and producer Lili Aslo. The Finnish artist is known for exploring different genres, from "bedroom pop" to hyperpop and classic indie rock. Her latest album, "CUM", revolves around the themes of sex and her life as a young trans person.
Daufødt (NO)
Daufødt, Norwegian for stillborn, is recognized as one of the most audibly innovative and visually distinctive bands in their generation. With their punk rock sound, they won a Norwegian Grammy in the rock category in 2020.
Tender Youth (DK)
Quartet Tender Youth are the new gems of the Copenhagen underground scene. Named one of the best acts of the UHØRT festival in Denmark, their sound mixes genres such as avant-garde rock and post-punk.
10:00 - 13:00 Workshop on sustainability @STIM Music Room (by invitation only)
Organised in collaboration with the Stockholm Resilience Centre of the Stockholm University, this workshop will engage the Liveurope venues in a reflection around the topic of sustainability and look for concrete ways they can embed the topic in their daily operations.
14:30 – 15:30 Liveurope panel at the Svensk Live Future Forum Conference @ BIO RIO
More information will follow soon.
17:00 – 18:45 Liveurope x Svensk Live networking session @ Capricci (by invitation only)
For Liveurope and Svensk Live members only.
19:00 – 00:00 Debaser Selects Swedish Talent @ Debaser
Get a glimpse into the music that is bubbling under the radar right now in Sweden in this showcase featuring 15 promising Swedish artists of all genres and styles. More info.
Line up: 
Yaeger 
Singer, songwriter and musician, Yaeger (German word for hunter) revolutionises the rules of pop as we know them in a fusion of energetic alt-pop, elements of skate culture and transatlantic R&B. 
Dictator Ship
Dictator Ship is a four-person rock band with four vocalists. Their unique music has been described as raw and primitive rock 'n' roll, inspired by 1960s soul and doo-wop.
Mopiano
Artist, songwriter, and producer Mopiano brings a fresh and futuristic R&B take on the Swedish scene. The 26-year-old artist takes great inspiration from his Gambian roots and his uncle's reggae works.
Flora Summers
Flora Summers is one of the most exciting emerging alt-pop talents of 2023. The Swedish songwriter and producer just released her 3rd single, "Obsession", which will be part of her first EP coming out in 2024.
Xorsist
Swedish band Xorsist is known among underground fans for their old-school approach to metal and for following Sweden's death metal legacy and history. The young band just released their second album 'At the Somber Steps to Serenity' in October 2023.
Ljung
Swedish producer Ljung has been training on the piano since he was 6 years old. In his works, EDM meets acoustic influences in a playful and creative performance. His collab song with Norwegian artist Eirik Naess "Wave" was listed on Norway's most prominent radio stations in 2023.
Katmando
Katmando is a blend of swanky indie and soul exotica, where exotica captures musical impressions from common travel spots to the mythical "Shangri-las" envisioned by armchair safari enthusiasts.
Menke
Singer, musician and songwriter Sara Menke is back after a four-year hiatus. Menke's sound is often described as ethereal indie-folk with elements of poetry.
de clair.
Alter ego of Clara Rudelius, de clair's music is both soft and empowering. The artist's works feature a minimalistic approach to indie/alternative and folk, allowing the artist's vocal and lyrical talent to shine.
CK
Indie rapper CK began making music in 2020 and has swiftly built a noteworthy catalogue. The artist prioritises lyrical depth, evident in his recent projects "Spittalicious" and "Omertà Over Clout", uniquely blending early 2000s vibes with a compelling flow.
Agitator
Starting in 2021 when the 5 members were still in high school, the Swedish band is thriving and bringing their music on tour across Europe.
Teodor Wolgers
Swedish neo-classical composer Teodor Wolgers has reached great success with his works, counting over 50 million streams on Spotify alone. His newly released album "Dialogues" features some of the most exciting artists in the neo-classical scene.
Jahanam
In Islam, Jahanam refers to a place of resort for the inordinate Iranian-Swedish artist. Jahanam is a do-it-all kind of woman, mixing funk, whip-smart, piercing lyrics, and dance-heavy productions.
Partners