Liveurope Festival 2020 - a truly cross-border online festival live from Europe's hottest stages
03 Sep 2020
Image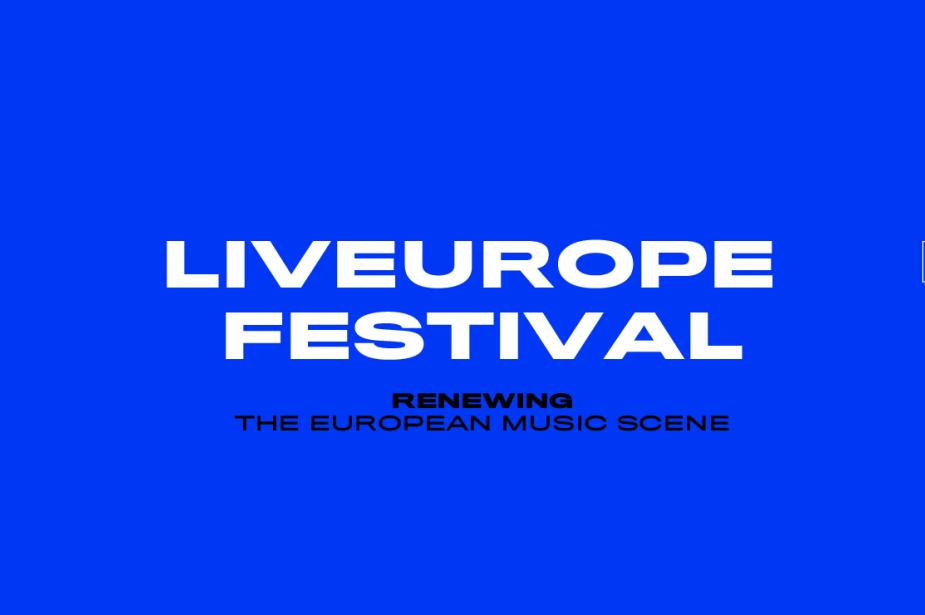 While 2020 has been a year of unexpected challenges and circumstances, it has also revealed the resilience of the music sector in adapting to the new reality and imagining new ways to connect with our audiences and communities. 
Driven by our commitment to continue strengthening the promotion of European music diversity – even in times when crossing physical borders has become challenging–, we have decided to host the 3rd edition of the Liveurope Festival online between 24 and 25 September. 
Under the title Renewing the European music scene, the festival took a future-oriented approach to the current crisis. It brought together music professionals, decision-makers and the general audience to imagine a more desirable future for our sector and discover some promising new music acts.
This was not just another digital festival, though: it has been the result of the close cross-border collaboration of the 16 venues of the Liveurope platform that, despite all challenges brought on by the pandemic, remain committed to working together to support emerging artists to reach new heights. The festival has also counted on the support of internationally acclaimed organisations in the music field, who helped develop a special programme for professionals and allowed us to reach new audiences beyond our network.
The result? A genuinely European and cross-border online festival with a diverse and thought-provoking programme with close to 40.000 viewers throughout the two days. 
The programme consisted of a series of concerts with 12 up-and-coming acts of 12 different nationalities live-streamed from the Liveurope venues, a high-level talk between policy-makers and music professionals, and closed meetings for music venues professionals. 
In the framework of the festival, we have launched​ this statement, which reaffirms the platform's conviction that, as a group, we are stronger to promote Europe's numerous talents and highlights the role of venues as the drivers of a rich, creative and powerful music ecosystem.
Jump to: Statement, Concerts, High-level talk, Meetings for music venues
The Liveurope venues have put together a truly European and diverse line-up for the festival, featuring some musical gems to watch out for. This is the very first time they have worked so closely together in their curation efforts, and the result is a unique set that pleases all tastes!
The line-up features Drens (DE), BÖBE (HU), Dj Danifox (PT), Charlotte Adigéry (BE), Malin Pettersen (NO), Nebraska (FR), Anna Andreu (ES), Zvíře jménem Podzim (CZ), Mekdes (DK), Pijammies (SI), Jelsa (PL), and Ooostblok (NL).
What do we need to rebuild the music ecosystem in Europe? While the live music sector is still very much at a halt, shows are starting to pick up again, and some artists are resuming to tour. In this context, what are the perspectives for the recovery of the European music sector? Music Moves Europe was born precisely to boost the potential of European music diversity and talent. What ideas, learnings and recommendations can we withdraw from this initiative to rekindle favourable conditions for our sector? How can they benefit to the live music sector that was most heavily impacted in this crisis? 
Introductory speech by Mariya Gabriel, European Commissioner for Innovation, Research, Culture, Education and Youth (BG) 
Speakers: Sabine Verheyen, Member of the European Parliament (DE) / Jean-Philippe Thiellay, Centre national de la musique (FR) / Virgo Sillamaa, EMEE - European Music Exporters Exchange (EE) / Naiara Lasa, Sala Apolo (ES)
Moderator: Fabien Miclet, European Affairs Consultant (FR)
As the very first actors impacted by the current crisis, music venues were also the first to adapt and change their practices in this unprecedented turmoil. These panels were an opportunity for music venues professionals from across Europe to reflect on the future we want for our sector and explore the role venues can take in it.
Strength lies in numbers: joining forces to press policy-makers (Thursday, 24 September)
From impressive support-campaigns to the creation of new live music associations over the last six months, live music venues have pressed policymakers through joint actions to get their voices heard. Their inspiring advocacy work showed results. Although our sector is far from reaching a safe haven, this crisis has shown us, once again, that together we are stronger. How did this pandemic change the way live music venues interact with public authorities? What are the effects on the structuration of the live music sector? What good practices can we withdraw from this situation to inspire others?
Speakers: Beverley Withtrick, Music Venue Trust (UK) / David Dehard, Court-Circuit (BE) / Gonçalo Riscado, Musicbox (PT) / Gaianè Kevorkian, KeepOn Live (IT)
Moderator: Elisa Thoma, Live DMA (FR)
This session was curated by Live DMA.
Time for a much-needed boost to the European music scene! (Thursday, 24 September)
In the wake of Covid-19, it's clear that chances are close to none that bands from other continents will be touring during the next concert season (2020 – 2021). In a context where the circulation of artists can resume in Europe, what opportunities does this bring to music venues to promote European talent in full force? And how to ensure and empower the exchange of European artists in various territories?
Speakers: Hannes Tschürtz, Ink Music (AT) / Clemence Renaut, ATC Live (FR) / Katia Giampaolo, Estragon (IT)
Moderator: Miran Rusjan, MENT Ljubljana (SL)
This session was curated by MENT Ljubljana.
Music venues and cultural centres as cultural mediators (Thursday, 24 September)
As places of both participation and activism, music venues and cultural centres' work bring to the forefront important discussions that might lead the way to the making of cultural and social policies. Engaged with specific ecosystems and urban environments, they play an essential role that answers directly to their own communities' needs.
In this panel, we discuss the importance of music venues and cultural centres as social and cultural mediators, their role in setting the ground for the development of cultural policies and how to bring together these spaces and the decision-makers.
Speakers: Melissa Perales, Night School Berlin (DE) / Ella Overkleeft, Trans Europe Halles (NL) / Baptiste Pinsard, Le sucre (FR) / Craig Pennington, Future Yard (UK)
Moderator: Luis Fernandes, Canal 180 (PT)
This session was curated by MIL – Lisbon International Music Network.
How music venues are finding ways to stay active and relevant while their stages are empty? (Friday, 25 September)
How to carry on with our core activities when the most important element of our work is missing? This panel will address some of the solutions founds by venues to continue their activities and one of their important missions to support their respective music scenes. With the boom of livestreaming, how do music venues invest in it and to what extent can it be a source of monetization?
Speakers: Mark Adam Harold, Vilnius Night Alliance (LT) / Sten Ove Toft, Blå (NO) / Vladica Mladenovski, Grga, MKC Skopje (MK) / Lene Vive Christiansen, VEGA (DK)
Moderator: Bas Grasmayer, Music x Corona (DE) 
Partners
We would like to give a special thanks to the Liveurope members and the partners who have embraced this project. Partners of the festival include Institut Ramon Llull, Live DMA, EMEE - European Music Exporters Exchange, MIL – Lisbon International Music Network, MENT Ljubljana, Music X Corona, Primavera Pro and reset!.