Joint call to save one of the bedrocks for culture, youth and democracy in North Macedonia
16 March 2023
Image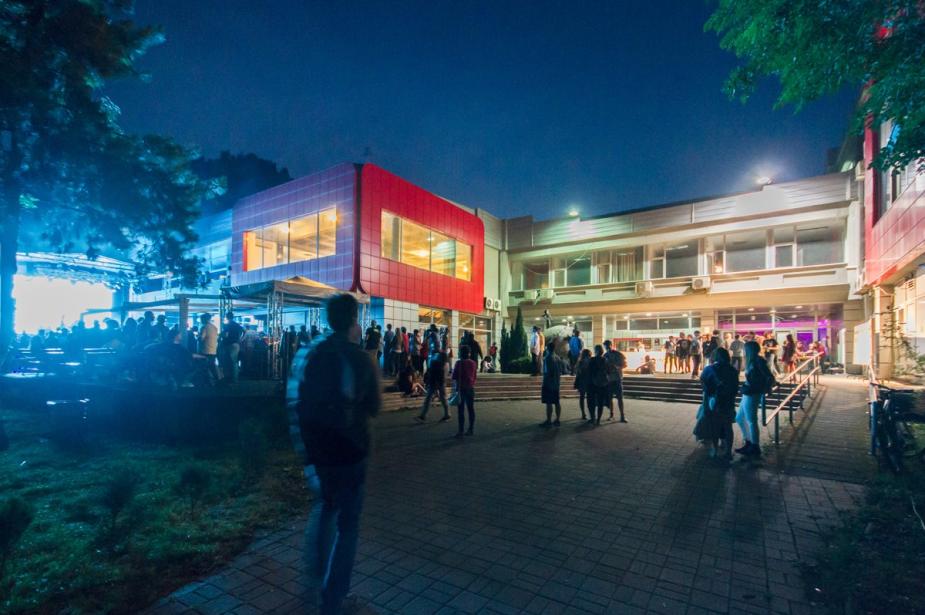 21 iconic European venues behind the Liveurope initiative join forces to express their concerns on the latest developments at the Youth Cultural Centre (MKC) regarding the unlawful appointment of its new director and the severe budget cuts it is facing. Based in Skopje, North Macedonia, MKC is an active member of Liveurope.
A public cultural institution, MKC is placed under the authority of the City of Skopje, and as such, its general manager should be directly elected by the Mayor of Skopje through a public call. According to the law, MKC's general manager shall fulfil a certain number of conditions, including the obtention of a higher education degree and a minimum of five years of experience in culture. In the event that MKC should find a new general manager, the Mayor needs to appoint an acting general manager among the current employees of the venue. This January, the mandate of MKC's general manager was not continued, and an acting general manager was appointed. It is worth stressing that this appointment process has been lacking transparency, as this new person only became a part-time employee of MKC five days before he was appointed in this new role and doesn't seem to demonstrate previous experience in the cultural sector. To this day, no public call has been made to select MKC's new general manager. 
On top of this, MKC's budget - which is also allocated by the City of Skopje – has been severely cut in 2023 in comparison to previous years. With a total of 106.000 euros allocated in 2023, the budget of MKC was slashed by 53,5% compared with the 2022 budget and by 74% when compared to the 2019 budget. This persistent and exponential downward trend towards a reduction in the size of MKC's budget represents a significant setback for the smooth running of the venue, which relies heavily on this budget to finance its artistic programme and activities. 
The Liveurope members stand together in berating these actions, which put at risk the proper functioning of this iconic venue. Originally established 50 years ago, MKC is a vital institution for the Youth, as recognised during the stop President Ursula Von Der Leyen made herself in the cultural centre during an official state visit to North Macedonia in 2021.
The Liveurope network has chosen to work with MKC not only because of its reputation but also because it is one of the bedrocks of cultural diversity in Skopje and overall in the Balkan region. More generally, the whole team running this organisation has always displayed a high level of commitment and professionalism since the beginning of our international collaboration and continues to do so.
In this light, we call on the Council of the City of Skopje as well as Danela Arsovska, the Mayor of the City of Skopje, to restore adequate conditions to ensure MKC can continue its essential work.
A skilled and experienced General Manager, appointed following appropriate election procedures, as well as a fully-fledged budget are essential to maintain the level of quality and reputation of MKC. It would be a great loss for North Macedonian communities should the venue not receive proper conditions to sustain its activities. Their cultural role is not only essential for the diversity of the local music scene but also for what we do at European level. They are the true example of how culture can bring us together at European level.
About Liveurope
Launched in 2014, Liveurope is an EU-funded platform that gathers some of the best concert venues in Europe. Based in 22 different countries, the Liveurope members bring together an audience of 4,6 million people every year. 
Signatories
A38, Budapest, Hungary
Ancienne Belgique, Brussels, Belgium
Blå, Oslo, Norway
Debaser, Stockholm, Sweden
FZW, Dortmund, Germany
Kino Šiška, Ljubljana, Slovenia
L'Aéronef, Lille, France
Melkweg, Amsterdam, Netherlands
Močvara, Zagreb, Croatia
Musicbox, Lisbon, Portugal
Nová Cvernovka, Bratislava, Slovakia
Palác Akropolis, Prague, Czech Republic
Posthof, Linz, Austria
Principal Theater Club, Thessaloniki, Greece
Rockhal, Esch-Sur-Alzette, Luxembourg
Sala Apolo, Barcelona, Spain
Santeria, Milan, Italy
Stodoła, Warsaw, Poland
Sveta, Tallinn, Estonia
VEGA, Copenhagen, Denmark
Village Underground, London, UK